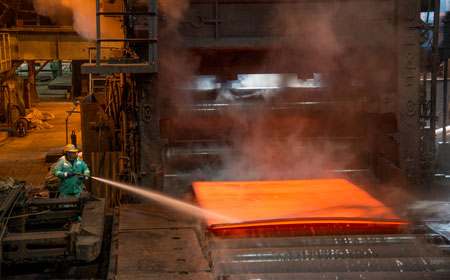 It was May 22, 1918, and you could feel excitement in the air. Lukens Steel Company was about to put into operation what we now know as the 206" Rolling Mill, the widest mill in the entire world. Everyone on-site knew that this technology and this day were historic.
A piece of hot steel came down the runout table. The steelworkers could feel the heat, intense on their faces as the steel moved toward them. That steel passed between two rolls, with sounds heard throughout the building, and came out thinner on the other side. Lukens had just rolled the world's widest steel plate!
This exhibit reveals the story of Lukens' 206" Rolling Mill. It also examines metal rolling, one of the most important manufacturing processes in the modern world. You will learn about the history of rolling and the importance of Coatesville and the 206" Rolling Mill to the national and global steel industries. We hope you enjoy it!